Whether it's a novel, e-book, audio book, graphic novel or comic, stories are a powerful form of communication. For many of us the tales and characters we enjoyed in childhood and adulthood resonate with us for the rest of our lives.
Today is World Book Day, a celebration of authors, illustrators, books and of course reading – and to mark the occasion we've asked members of the team what their favourite book is and why: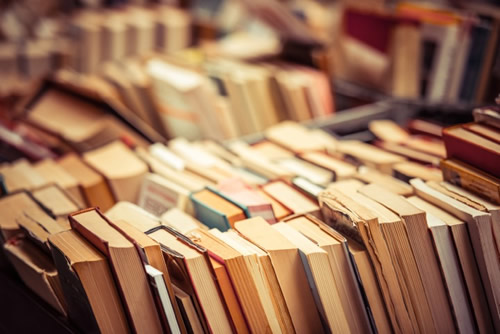 George – Gone Girl by Gillian Flynn is my favourite book. I love the the interesting way it tells the story. The twists and turns in it had me picking up the book as often as I could until it was finished.
Martin – My favourite book is Cloud Atlas by David Mitchell. Its multi-layered, multi-faceted, interlinked stories make it an enthralling and very thought-provoking read.
Claire – From my childhood it has to be The Hobbit and The Lion, the Witch and The Wardrobe. These books got me into reading and are the reason why I read so much now. In adulthood, my favourite book is Fluke by James Herbert. It's the story of a dog called Fluke who thinks he's a man – it's a wonderful story that has you laughing and crying.
Tom – The World According to Garp is my favorite book – it's just a brilliant novel and should be on everyone's list.
Kathryn – Life of Pi by Yann Martel is my favourite. I loved the relationship between Pi and Richard Parker, and the powerful and thought provoking storyline.
Rebecca – My favourite book would have to be The Phantom Tollbooth by Norton Juster. I read a page from the Tollbooth in another children's book and was immediately hooked; a dark, magical adventure – combined with a look at the absurdity of the English language – what's not to love?
Georgina – To Kill A Mockingbird by Harper Lee is my favourite. I love reading books set in the Deep South of America in the 1930s, because of the social themes and issues they tackle – To Kill A Mockingbird was where that passion began.
Sarah – My favourite book as an adult is A Prayer for Owen Meany by John Irving. The story is so unusual and captivating it made me wish I was a novelist… briefly. And as a child it was 'The Velveteen Rabbit' by Margery Williams. A beautiful children's storybook of what is is to be loved and then not. And then it turned into a real rabbit. Magical!
Donna – My favourite is A Thousand Splendid Suns by Khaled Hosseini. It captures your imagination from the very first page and it doesn't let go until the very end. Tragic, beautiful, and quite unforgettable – and a book everyone should read.
Ross – My favourite book is Charlie and the Chocolate Factory. As a kid I loved losing myself in Willy Wonka's wonderful world of chocolate.
Lily – I loved everything by Roald Dahl when I was younger, but the The Twits has to be my favourite. It's marvellously funny and gave me great ideas for pranks!
We'd love to know what your favourite book is, and why, so let us know on Twitter using the hashtags #onebook and #WorldBookDay.
Happy reading!