In yesterday's general election, we saw the highest turnout since 1997, with nearly 70 per cent of the UK voting – and more than 32 million votes so far out of a possible 46.9 million.
And many initial reports show it was the younger generation that braved the weather. There was certainly a sharp increase in young voters registering, with around two-thirds of new voters signing up on deadline day aged between 18 and 34. Although, at this stage, there's no demographic breakdown of voters so claims there was ahigher turnout among young voters can't be measured.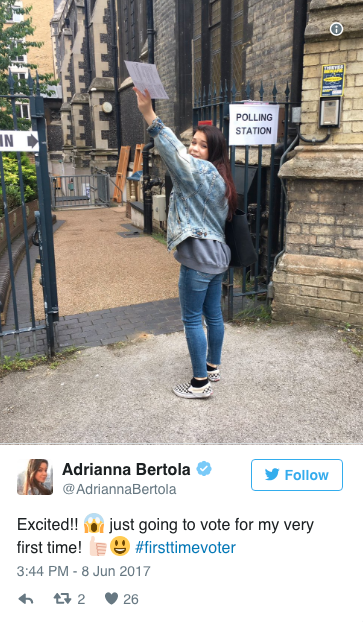 And the results…?
Well, they defied all previous polls with a hung parliament – as predicted by the exit poll – and Conservatives lost 12 seats, and Labour gained 31. A very different outcome to the prediction of the biggest Conservative landslide since Thatcher.
So our question today is, did social media have an influence?
In the lead up to the election, especially the early weeks, the traditional press has been far more likely to attack Jeremy Corbyn than Theresa May – and newspaper and TV coverage has been cited as being bias. The findings are backed up in the second report of an election audit from Loughborough's Centre for Research in Communication and Culture.
However, on social media, it's a different story. May gets on average just 716 retweets compared with Corbyn's 2,533 – and most of the comments Corbyn receives seem generally supportive, while May's do not.
Less than a week before polling day, the Press Gazette found that the most shared news stories about the general election on social media were overwhelmingly anti-Tory and pro-Labour.
The most shared election story on social media over the past week was an article by The London Economic reporting on a "viral" pro-Labour Facebook post. The story headlined: This Facebook comment about Jeremy Corbyn is going viral" – and includes lines such as "We've waited forever for an honest politician to come along but instead of getting behind him we bow to the establishment…"
The story has been shared a total of 57,300 times across social media and 54,500 times on Facebook alone.
The second and third most shared were stories by the Daily Mirror: "Why should I not vote Conservative? 29 nasty policies you shouldn't forget in the 2017 general election," and "Tory Michael Fallon slates 'Jeremy Corbyn quote' live on air – then realises they were Boris Johnson's words,".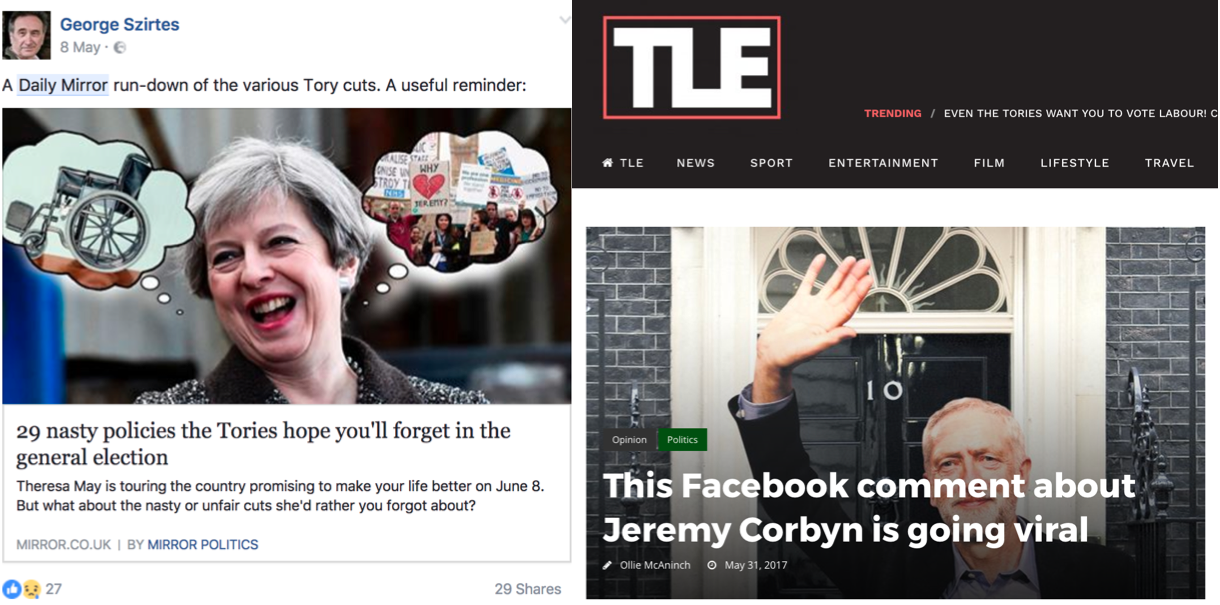 Can we put this surge in support on non-traditional media down to the amount of younger voters registering and voting?
It's too early to say whether the social media backing for Labour and Corbyn helped them win an additional 31 seats but it would be really interesting to do some Facebook mapping…