It's hard to ignore the rumblings of change across the marketing and advertising industries. More voices than ever are being heard, demanding a better representation of women across online and offline advertising, championing a more diverse portrayal of talent and capabilities, than ever before.
The statistics are staggering. According to Campaign, 93% of adverts are directed by men, whilst only 3% of adverts feature women in leadership or professional roles. Even more alarmingly, 48% of women are likely to be portrayed in a kitchen, and are seven times less likely to speak, compared to their male counterparts (JWT and the Geena Davis Institute).
Given the integral role that advertising plays in shaping culture, it is no surprise that there is still a way to go in balancing a historic misrepresentation of women in adverts such as these, but things are beginning to change.
Sports England, via the 'This Girl Can' campaign(s) promotes female empowerment and participation in sports after acknowledging that women had been inundated with outdated 1950's style advertisements 'what an athlete should look like'. Through showcasing a range of women in action, portraying a more honest visual of what it is to play sport, the campaign began nurturing women into believing it doesn't matter who they are or what they look like – they can run / swim / play as much as anyone else can. Such was the level of influence, it was reported that the campaign alone got 1.6 million women exercising.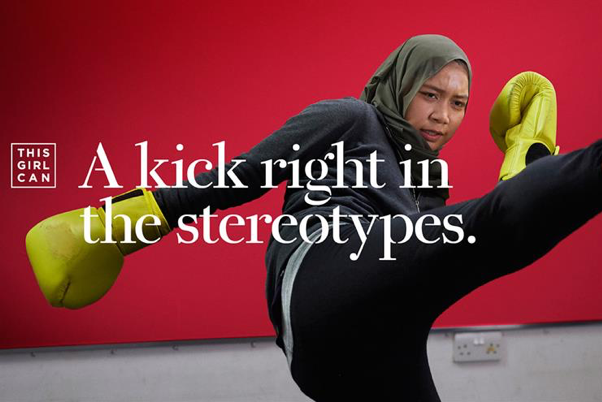 With results like this, it is imperative that we continue to support a more progressive portrayal of women, but equally, to a similar extent, the profile of men in the media.
An advertisement from KFC was banned in 2017 after one man was seen teasing another for suffering from anxiety, claiming this would reduce his level of masculinity. Scenes such as this can play a powerful role in reinforcing outdated and stereotypical views of gender.
More often than not, we will see men portrayed as hard-working, labour intensive 'manly' men across advertising, rather than a man demonstrating one of many characteristics of today's definition of a 'modern man', which has far more depth to it.
Procter & Gamble's shaving brand, Gillette, recently produced its latest campaign to weigh in on the topic, through The Best Men Can Be campaign. This work generated two million views on YouTube in its first 48-hours, but many people heavily criticised the brand for the way it highlighted male toxicity and branded all men in a negative way. For some, the advert was misrepresentative – claiming young boys should be taught 'rough and tumble' to develop 'healthily' and that 'society is falling apart because men are simply not "manly" enough'. However, alongside the negative feedback, there was also widespread praise for the brand's attempt to question the modern man and encourage men to hold each other "accountable."
All is not lost, however, and there are examples of brands that have been able to successfully make huge strides in recent years to portray men more realistically. One such activity sits in the promotion of skincare brand, Dove's, Dove Men+Care campaign which aimed to communicate the changing perception of what it is to be a man, "…as masculinity evolves, it's becoming more fluid and less defined", one of the first brands to showcase the many facets behind 'what it is to be a man, today'.

As powerful as International Women's Day is in raising awareness amongst people to change their perceptions and the treatment of women, it also reminds us that there is still very much work done on both sides to represent each gender fairly across the marketing and advertising industries and it is our responsibility as marketers to ensure our campaigns are reflective of the needs and requirements of society, today.