For over a year we've been hearing the acronym GDPR thrown around. Businesses have been learning how the regulation will affect them and have been busy preparing their opt-in email campaigns.
Now that GDPR is here we've put together a list of some of our favourite campaigns, which have stood out in our inboxes dominated with re-permission emails.
Coming in at number one is an email from event management software company, etouches. Whilst some may think it's cheesy, we really liked the sentiment within the actual copy of the email, acknowledging that whilst they may not have been in touch with customers for a while, they'd still like to be friends – using references to the popular American sit-com, Friends and its soundtrack "I'll Be There For You" by The Rembrandts.
There should be no reason etouches and its customers will be on a break with this great approach!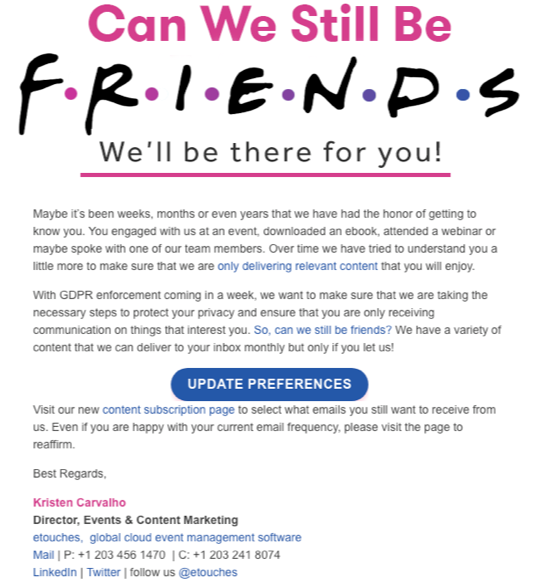 All About Dogs
We'd like to give the event, All About Dogs, a round of 'a-paws' for their GDPR opt-in email.  With the subject line, 'We need your paw-mission', we were intrigued as to where this paw- some pun might have been going. The event organisers have used their pun-filled email to focus on promoting the benefits of what their customers will gain if they continue to receive emails, with the added bonus of being automatically entered into a prize draw to win tickets to a 2019 dog show. Competitions are always a winner!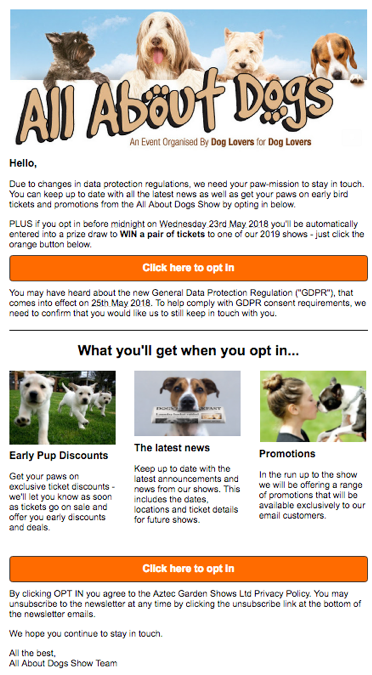 Cary Arms & Spa
Incentives to keep contact lists full have largely been a common theme within GDPR emails. Devon-based hotel, The Cary Arms & Spa, has taken the opportunity to offer its contacts a chance to win a two night stay in a beach suite by opting-in to stay part of its database. After all, who wouldn't take the chance to win this luxury stay with just the click of a button?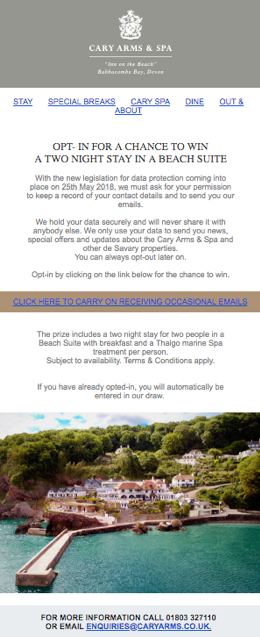 In The Style
The retailer, In The Style, has marketed its email campaign spot on for its fashionista audience. The company has chosen not to include a lot of information about what GDPR specifically is but instead focuses on a call to action for its 'babes' (customers) to ensure they continue to receive the emails they want from In The Style.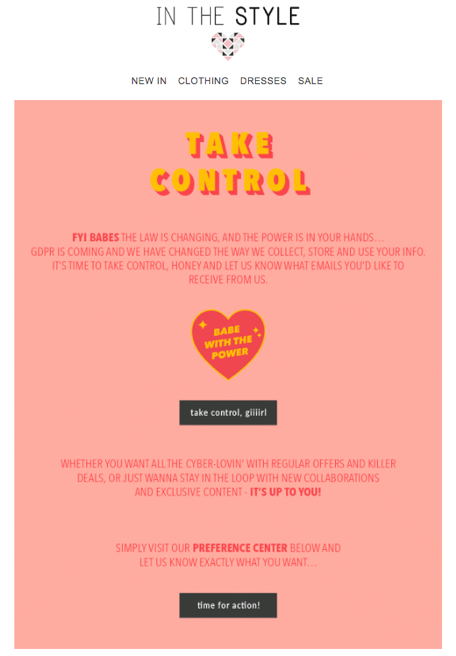 Waitrose
Our Creative, El, has also been targeted by Waitrose in person at the checkout in store. Whether you see it as a little annoying or useful, it's an interesting approach.