In today's general election, about 46.9 million people are registered to vote – that's an increase of half a million from 2015. With that many potential votes to count by hand tonight, it begs the question, why aren't we voting online?
People make choices online every day: from ordering clothes, taxis and takeaways, to transferring money, applying for a driving license and even putting a house up for sale. So why when it comes to voting are we still using the archaic methods of pencil and paper?
On paper (excuse the pun) online seems to make sense when you think about the poor turnouts at the polling stations. How much easier would it be to vote online rather than getting up for work early or making your commute home longer? In the 2015 UK general election, over a third of registered voters didn't vote – and, apparently, 21 per cent of voters didn't because they didn't have time to get to the polling station. In today's 2017 election, the rain seems to be putting a dampener on things.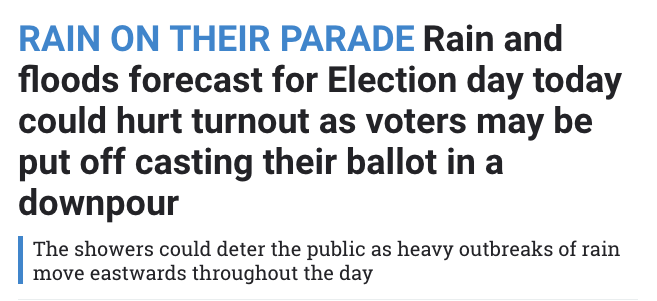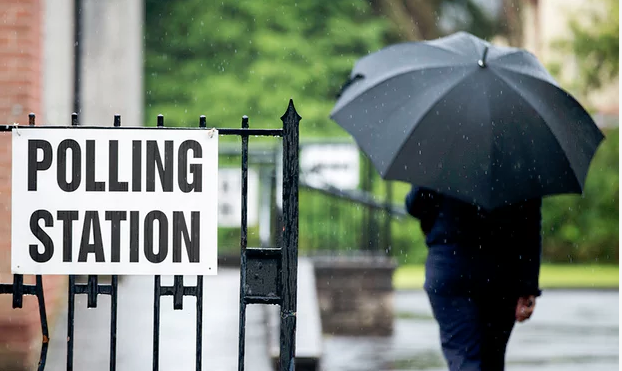 And no one is more affected by the lack of online provision than the younger generation; whether it's due to not appearing on the electoral register because of living in short-term, rented accommodation or election day falling outside of term-time when students are registered to vote on their campuses. In 2015, just 43 per cent of those aged between 18 and 24 voted, compared with 76 per cent of those aged 65 and over. WebRoots Democracy, says online voting could increase the turnout of 18 to 24-year-olds by up to 70 per cent.
So where does technology play a role?
Some countries already offer an element of online voting, especially those with rural communities such as Australia and Canada. All Brazilian elections have been fully electronic since 2000 – in the 2002 elections more than 400,000 electronic voting machines were used nationwide and the results were tallied electronically within minutes after the polls closed. Computers play a role in virtually all major U.S. elections; whether it's touching a computer screen to select their chosen candidate or machines in the back room that read the paper ballots.
In the UK, however, technology plays a minor role. There's no online electoral roll, so you have to contact the local electoral registration office to check you're registered to vote – but you can register to vote via an online form. On the day, you take a physical polling card to the polling station – and you'll be given a ballot paper and pencil to mark with a cross your party of choice.
And why aren't we using technology more in the UK elections?
Online voting is a far bigger and more complicated step than we realise. The UK has run trials in the past, but security experts say there's no guarantee that online voting will be secure. There are just too many questions: how reliable are the computers used to cast and process the votes? Could they get hacked? And can they fully protect voters' rights? There are so many things that could go wrong from cyberattacks influencing voting to websites crashing through everyone trying to vote at once.
The thought of online voting in 2017 may have seemed plausible, but in light of today's increasingly sophisticated and numerous security threats – the risks outweigh the gains.
But, if we have to use paper, why pencil and not pen?
The UK has always voted with pencils – from a historical point of view – but you are actually allowed to use a pen. There's recently developed conspiracy theory on social media that ballot papers written in pencil can be erased and changed behind the scenes. However, this isn't that likely – The Electoral Commission says: "The use of pencils does not in itself increase the likelihood of electoral fraud. Indeed, pencils win when it comes to reliability and practicality, pen ink might run, smudge or transfer but there's no risk with a good old fashioned pencil.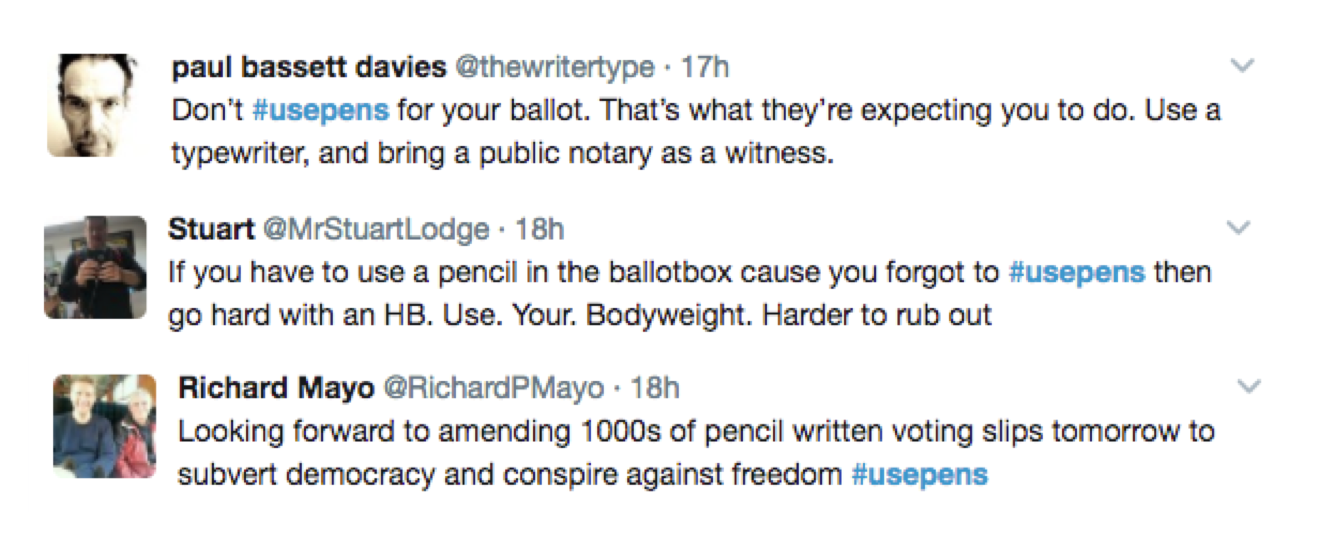 Whether you use pen or pencil or crayon – just make sure you vote! Keep an eye on the updates here.